Bunnings is an iconic Australian staple. If anything needs fixing or improving around the house, or you just feel like a tasty sausage on bread, most Aussies first stop is Bunnings. Security screens and doors are always in demand for both homes and businesses as they are an integral and relatively easy way to boost security. There are many security screens available at Bunnings that are suitable for a wide range of applications both indoor and outdoor, but is there a better alternative out there? Here at Securelux we believe Crimsafe is a far better alternative that will provide better levels of protection for your loved ones or business.
CRIMSAFE ADVANTAGES
You might be thinking, are there really that many more advantages to a Crimsafe security screen than something that I can pick up from Bunnings? There certainly are! Here are a few of the most important advantages of Crimsafe security doors screens.
UNBEATABLE STRENGTH
Crimsafe can also be classified as an iconic Australian business. Their security products are unbeatable and have been so for years as they continuously improve their products and come out with some of the latest and greatest products in the security industry. There's a few factors that make Crimsafe far stronger than anything else on the security market.
Firstly, they have their exclusive screw-clamp technology. This enable Crimsafe to screw the mesh into the frame and then further secure it by clamping it in with a vice like grip. Most competitors will use a simple (and easy to break) plastic wedge to secure the mesh to their screens.
The screws used are also unconventional to those used in other security doors making them tamper-resistant.
In impact, knife-shear testing and pull-testing Crimsafe either passed or far exceeded the Australian Standards. This is thanks to the tight woven structural grade wire strands which support each other and the mesh's ability to spread the impact load around the frame and direct it back into the buildings structure.
CUSTOM MADE
Every single Crimsafe product is custom made for each customer. Why is this such a massive advantage when compared to pre-made? We plan out the products every detail, ensuring a perfect build and fit for your home or business. If there are any special-order requirements, such as wider or longer than usual doorways, we're able to accommodate.
Poor fitting security screens and doors are far less effective at stopping intruders than those that are individually made to precise measurements. So, whilst a security screen you can pick up at Bunnings may be more budget friendly in the beginning, it could end up costing you more in the long run. You don't want to cut corners when it comes to safety as it could leave your family or business vulnerable.
QUALITY
Once again, whilst it may initially be cheaper to buy a security screen at Bunnings, if you are having to replace it every few years, it will cost more in the long run compared to Crimsafe. Everything is high grade, from the wire, to mesh, security screws – right down  to the paint used. In fact, Crimsafe's stainless steel mesh has an estimated overall lifespan of 65 years!
Crimsafe security screens and doors are also powder coated, giving them greater durability. Powder coating makes the paint highly resistant to harsh weather, corrosion, and chemicals. With proper care and maintenance, which is as simple as a wash with warm soapy water when dirty, a Crimsafe security doors can last for a decade or more. So not only will the quality be more effective at deterring intruders, the aesthetic appearance of your security screens and doors will continue to look more stylish and appealing than cheaper alternative. All Crimsafe products come with a standard 10-year warranty, with optional 12-year and 15-year warranties available.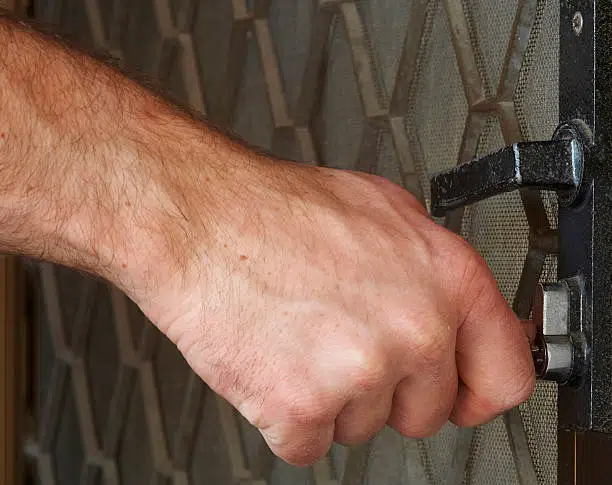 SECURELUX PROVIDES CRIMSAFE
Securelux has been in the security industry for over 40 years, providing perfect solutions for local homes and businesses on the Sunshine Coast. With more than 4 decades of experience under our belts you know you've left the security and safety of your family or business in the best hands.
As a fully licenced manufacturer and installer of Crimsafe products, we custom make all Crimsafe security screens and doors in our very own factory. Our licence also means you can trust that you are only being provided with genuine Crimsafe products, not cheap knock offs.
Our customers care and satisfaction is our top priority which is why we employ our own team of fitters. Having permanently employed, trusted team members mean we can ensure they carry out all jobs to our strict levels of professionalism and quality that we're renowned for. Whether interacting with our team in the office or experts in the field, you'll always receive outstanding customer service.
Installation is so easy with us that you don't even need to be home. Just hand us the keys and come home to your newly installed Crimsafe products. We can also save you the hassle of a trip to the dump and can dispose of your old security products for you – just let us know ahead of time.
We're proud to service our local community and a passionate about providing better security solutions for families and businesses alike. If you're interested in security screens or any other Crimsafe products, get in touch with our friendly team today to organise a free quote and measure.