Southeast Queensland – it get's hot, humid and is home to far too many flying insects at any time of the year. The use of Crimsafe security is popular here for plenty of reasons – these screens provide utmost security against insects and human intruders while allowing air and light into your home or office. Crimsafe security screens are available in various colours and styles to suit the look of your building. Before delving deep into Crimsafe Brisbane services, let us have a look at its features and benefits.

Features and Benefits of Crimsafe Products
Crimsafe products are always at the top of homeowner's lists because of their strength and durability when it comes to protecting building and property. Features like safety escape windows and unique installation techniques have made these screens a world leader in the security of your windows and doors. Some of the features include:
Screw-Clamped Mesh
The first and most reliable feature of Crimsafe screens is screw clamped security mesh that enables it to absorb and disperse any pressure or force along with the frame and keep mesh intact. It has two aluminium pieces; one is a strip with a hook and the other a frame. A rubber bead separates all aluminium pieces to keep the device corrosion-free and give Crimsafe unrivalled resistance to various attacks.
Thick and Meticulously Woven Mesh
Another unique feature that makes it an industry leader is the thick and meticulously woven stainless steel mesh that gives it unmatched strength. No other company uses 304 grade, 09mm premium quality stainless steel which is what makes it resistant against sharp objects like a knife. Even putting a hole in the mesh is going to be difficult due to the sheer resistance of the mesh.
Corrosion Resistant
Homeowners in Brisbane prefer installing Crimsafe doors and windows because they are corrosion resistant and can withstand the tropical environment of the city. With plenty of testing including salt spray testing to see what they can withstand, these screens are perfect for wherever you in the city. The powder coating used on these screens complements their reliability and durability.
Quick Emergency Exit
Emergency exits are one of the standards that Crimsafe uses. These particular security screens come with built-in safe-s-capes that make it convenient to escape without compromising security. Crimsafe products in Brisbane have a keyless exit system making it easy for everyone to operate.
Minimise Energy Costs
Have you ever wondered if security screens reduce energy costs? The answer is yes. Crimsafe security screens save energy costs due to being able to  control 40% of heat gain/loss through doors and windows. You can secure your home and retain cooling in summer and heating in winter with Crimsafe screens.
Moreover, Crimsafe products come with a 10 to 20 years warranty. It means that installing these security screens and doors gives you complete peace of mind for a decade or two. With plenty of other protective features including against bushfires and cyclones, Crimsafe allows you to enjoy more time in your home or office without worrying about intruders, insects and energy costs.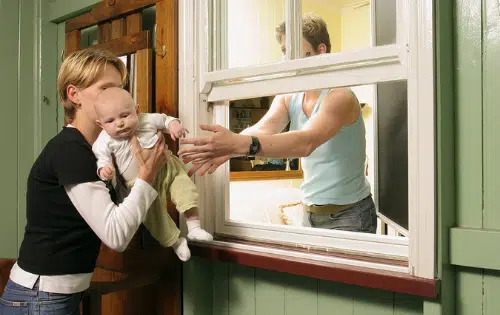 Various Types of Crimsafe Services Brisbane
At Securelux, we offer a variety of Crimsafe product services in Brisbane and the Gold Coast that suit the tropical weather.
Security Screen Doors
We can provide a variety of  security doors that ensure the best protection of your homes from all kinds of intruders. The style of doors available include hinged doors, bifold doors, stacking doors, French doors, and sliding doors. You can select the best fit for your home or building design and style without worrying about strength and reliability. All these security doors allow ventilation while blocking 53% of the heat to keep your building cooler.
Security Screen Windows
Like security screen doors, Crimsafe windows also come in various designs and styles. You are free to choose from the fixed windows, hinged windows, or safe-s-capes. These windows look exactly like standard windows but with increased security and improved looks. Crimsafe windows also provide ventilation but block the entry of debris.
Patio and Outdoor Screens
Did you know you can use Crimsafe security screens to protect your patios, balconies, pools and courtyards? These screens feature the same mesh material and offer the same grade strength and reliability.
Need to protect your Brisbane home? Contact our friendly team for our Crimsafe services in Brisbane.