When it comes to Crimsafe, there's a good chance you've heard about the security features. However most homeowners don't realise that they can have Crimsafe installed on their sliding doors.
In Queensland, sliding doors on homes are extremely common. As we enjoy the outdoors, sliding doors allow us to make our patios and balconies an additional room on our house. But they aren't impervious to break ins. Installing Crimsafe sliding door security screens gives you that added protection you're looking for.
Let's take a look at some of the benefits of sliding door security screens.
Enhanced Security – The first benefit of Crimsafe doors, and the one that everyone knows, is enhanced security. Installation of these heavy-duty doors gives you peace of mind in ensuring home security. Crimsafe security sliding doors prevent the entry of not only thieves, but insects and bugs into your home. The locking mechanism on sliding security doors locks into the door frame, providing a heavier, more secure sliding door.
Better Ventilation and Views – The hot and humid climate in greater Brisbane demands the flow of fresh air into your home. Installing Crimsafe sliding security doors provides improved ventilation, while also increasing the outlook from your home. There's no bars or grilles, so your view of your backyard is unhindered.
Reduce UV Heating and Save Money on Energy – Your home becomes energy efficient by installing Crimsafe doors as they reduce UV heating into your home by 53% and keep your home safe from extreme weather conditions. Heat or cold outside your home minimises impact the temperature changes inside.
Minimise Fire Spread – Fires aren't something we expect in the middle of Brisbane, but if you live in the outer suburbs, there's never any guarantees of being fire free. Crimsafe sliding security doors can help minimise the spread of fire, as the heavy-duty mesh prevents embers from entering your home, as well as preventing falling debris crashing through your doors. Even better is that the intensity of heat from fire is reduced by up to 59%, giving you some extra protection.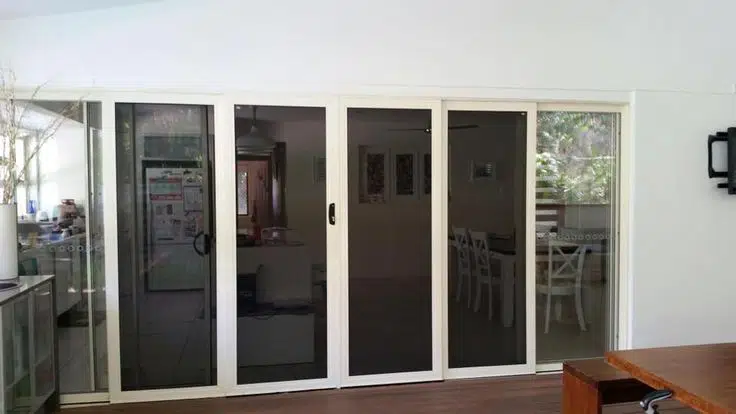 How Sliding Doors Provide Extra Security?
Crimsafe sliding security doors provide better security compared to other options on the market by providing:
Exclusive Screw Clamp Technology
Secure 3-point locking system
Heavy-duty structural grade mesh
Ideal for wide openings
Screens can move both rights and left ways
Uses patented technology
Can be custom made to fit various openings
Types of Sliding Doors You Can Use Crimsafe On
There are four types of sliding doors that Crimsafe screens can be used on.
Standard Sliding Doors – These are the sliding doors that many of us have, and Crimsafe screens are the best option. The locking mechanisms are placed within the door frame to provide ultimate security while still maintaining a clean look.
French Doors – French doors are another very good option to secure your property without detracting from the visual appeal that French doors provide. You can fit these doors on top of your existing doors. French doors come with a triple locking system mechanism and exclusive Screw Clamp system.
Stacking Doors – Certainly popular with coastal living, stacking doors allow you to open your patio up section by section or the whole thing – perfect for entertaining. Crimsafe stacking screen doors have locks that can be configured to lock at the centre, right, or left.
Bi-fold Doors – Crimsafe bi-fold door screens are multi- panel hinged doors providing you with the flexibility that comes with indoor/outdoor living.  Available in various panel widths and heights of up to 3 metres, these doors can fold in or out and concertina from the middle or side.
Are you in the market for sliding door security screens? Crimsafe provide the most secure screens available, helping you protect your family and belongings. Speak to our friendly team about how Securelux can help you with sliding door security screens on your South East Queensland home.